Classroom Ready!
---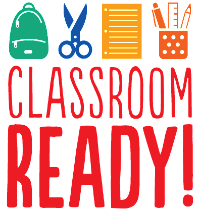 2018-2019 Classroom Ready
Who are we? Classroom Ready is a program under the Foundation for Fort Mill Schools, run by community volunteers and funded by grants and donations from our supportive community. Classroom Ready provides free school supplies to students in need.
Who we serve?  We serve every school in the Fort Mill School District.  In the summer months, we work with individual families, SON Ministry and The Fort Mill Care Center to identify needs prior to school starting.  During the school year, we work directly with FMSD Guidance Counselors to meet student needs.
When are we open? ALL YEAR ROUND! In the summer months, we work with volunteers in our supply room as well as with supply drive hosts throughout the community.  During the month of August, we distribute backpacks and invite school counselor to shop for students in their schools. Throughout the school year, we process orders from guidance counselors and maintain the supply room with the help of volunteers.
Where are we located?  The Susan McCrae Moore Supply Room is located at 120 East Elliott Street.  We are open by appointment only.
Do you want to HELP?
SHARE about this program with others.
HOST a supply drive in your neighborhood, organization, business, church, etc.
DONATE individual supplies.
View our 2018-2019 supply list here or you can download the pdf file from the link below.
VOLUNTEER to help in our supply room.
Check out our SignupGenius and be sure to check back as dates are added throughout the summer.
Will your organization support us this year? Let us know by completing this brief form so we can include you in our communications.
Access our shared Google Drive Folderfor all of our resources in one place including our logos, flyers, calendar and more...
---
Do you NEED HELP providing supplies for your child?
May 16th through August 5th, we offered an online application. That application is now closed and parents will need to contact their child's guidance counselor.
August 10 through April contact your child's guidance counselor.
Calendar
May & June: Identify community supporters and identify families in need.
June & July: School supply collections & volunteer through SignupGenius.
August: Saturday, August 5: Walmart "Stuff the Bus" - Use Signup Genius to volunteer.
August will be full of opportunities to help. Additional dates will be added for volunteers, counselor shopping days and backpack distribution. Please continue to check signup genius for more opportunities.
Questions?
Email classroomready@ffms.org or call 803.548.5559.
An organization is helping hundreds of children in need. Classroom Ready collects school supply donations for underprivileged children. All of it is distributed to Fort Mill families at the end of the summer, but the prep work begins now. CN2's Kathryn Andreoli with a look inside a new storage facility and the plans to get students "classroom ready".
Counselor Oder Form