Classroom Ready!
---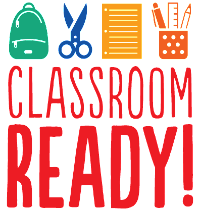 2020-2021 Classroom Ready
Who are we? Classroom Ready is a Foundation for Fort Mill Schools program, run by community volunteers and funded by grants and donations from our supportive community. Classroom Ready provides free school supplies to students in need.
Who we serve?  We serve every school in the Fort Mill School District.  In the summer months, we work with individual families, SON Ministry and The Fort Mill Care Center to identify needs prior to school starting.  During the school year, we work directly with FMSD guidance counselors to meet student needs.
When are we open? ALL YEAR ROUND! In the summer months, we work with volunteers in our supply room as well as with supply drive hosts throughout the community.  During the months of July and August, we distribute backpacks and invite school counselors to shop for their students. Throughout the school year, we process orders from guidance counselors and maintain the supply room with the help of volunteers.
Where are we located?  The Susan McCrae Moore Supply Room is located at 120 East Elliott Street.  We are open by appointment only.
Would you like to HELP?
SHARE information about this program with others. Access our 2020-2021 google drive with logos, flyers, and more here
HOST a supply drive in your neighborhood, organization, business, church, etc. Let us know how you can help by going here.

Questions? Email ClassroomReady@ffms.org

DONATE individual supplies. View our 2020-2021 supply requests on Signup Genius here
VOLUNTEER by signing up here to volunteer or email ClassroomReadyVolunteers@ffms.org for more information. Check our website and social media pages for volunteer opportunities throughout the year.
FOLLOW US on social media for updates and volunteer opportunities.

Facebook: @foundationforfortmillschools

Instagram:@foundationforfmschools

Twitter: @ffmsnews
---
Do you NEED HELP providing school supplies for your child?
Families must apply for assistance by July 15th, 2020 to receive items prior to the first day of school.
For an online application link email ClassroomReady@ffms.org
Paper applications may be downloaded here.
Applications are also available to Care Center Clients at the Fort Mill Care Center.
Questions? ClassroomReady@ffms.org
SAVE THE DATE:
Saturday, August 8, 2020: Tega Cay Walmart "Stuff the Bus".
While we normally offer a range of volunteer opportunities for community members, we are unsure under Covid-19 related guidelines when and how these will occur this summer. At this time, the best way you can support our students is through donations. Check our website and social media pages for updates or complete the volunteer link to receive information by email.
Questions?
Email ClassroomReady@ffms.org or call 803.548.5559.
CN2's Sarah Obeid focuses in on Classroom Ready and how Service Week plays a significant role in its success.

An organization is helping hundreds of children in need. Classroom Ready collects school supply donations for underprivileged children. All of it is distributed to Fort Mill families at the end of the summer, but the prep work begins now. CN2's Kathryn Andreoli with a look inside a new storage facility and the plans to get students "classroom ready".